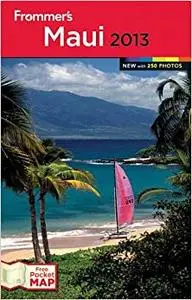 Jeanette Foster, "Frommer's Maui 2013"
English | 2012 | ISBN: 1118287592 | PDF | pages: 419 | 139.0 mb
- Opinionated reviews: No bland descriptions and lukewarm recommendations. Based on a detailed personal inspection, our author covers lavish beachfront resorts, intimate rain-forest B&Bs, family-friendly condos, and much, much more. Our dining reviews are simply the best in the business, whether you crave cutting-edge Asian-fusion cuisine or a hearty, affordable plate lunch.
- Insider Advice: Meticulously researched by one of Hawaii's most noted journalists, this is hands-down the most reliable, up-to-date, and comprehensive guide to the islands. Our author makes sure that you'll truly experience the spirit of aloha, and she'll help you steer clear of anything that's overpriced, touristy, or inauthentic.
- Where to find secluded beaches; secret spots for snorkeling; the best outfitters to choose for everything from diving to deep-sea fishing; and where to find the top galleries and shops. Whether  you want to golf, snorkel with sea turtles, take the road trip of a lifetime on the scenicHana Highway, or simply kick back with a mai tai to watch the sunset, you can design the perfect trip with Frommer's Maui.
- Exact prices listed for every establishment and activity–no other guides offer such detailed, candid reviews of hotels and restaurants. We include the very best, but also emphasize moderately priced choices for real people.
- User-friendly features including star ratings and special icons to point readers to great finds, excellent values, insider tips, best bets for kids, special moments, and overrated experiences. Inside you'll find extensive coverage of family-friendly accommodations and activities; tips on how to get married in the islands; recommendations for the best honeymoon resorts; and valuable advice on finding the best airfares and package deals.