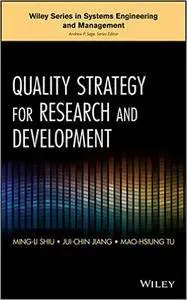 Quality Strategy for Research and Development by Ming-Li Shiu and Jui-Chin Jiang
English | 2013 | ISBN: 111848763X | 384 pages | PDF | 7,2 MB
Provides a clear, useful framework and methods for R&D, including robust technology development, product planning, and product design and development management
"Quality Strategy for Research and Development" integrates the Japanese and Western perspectives on Quality Function Deployment (QFD), updates the strategy of Robust Engineering (RE), and relates their unique frameworks to current, widely adopted philosophies of quality assurance.
Featuring real-world case studies, more than thirty tables, and over seventy figures, this essential guide identifies key issues and proposes improvements in the current R&D paradigm. It offers in-depth coverage of technology development, product planning, and product design and development management.
"Quality Strategy for Research and Development: " Updates the conventional approaches to QFD and RE, and provides the implementation model of combining them into a corporate operating system Identifies key issues in the current practice of R&D, and provides solutions for improving design quality and R&D productivity Includes the case studies of designing a functional circuit, magnetic component, measurement system, and machining equipment Offers the integration models of QFD and other breakthrough strategies including DFX (Design For eXcellence), DFSS (Design For Six Sigma), and Blue Ocean Strategy
Written for R&D executives, managers, engineers, and quality practitioners, "Quality Strategy for Research and Development" is also an ideal text for professors and students of industrial and systems engineering, technology management, and business administration.