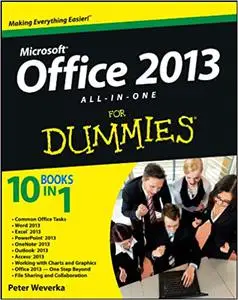 Peter Weverka, "Office 2013 All-in-One For Dummies"
English | 2013 | pages: 819 | ISBN: 1118516362 | PDF | 17,6 mb
Home and business users around the globe turn to Microsoft Office and its core applications every day. Whether you're a newcomer or a veteran Office user, this friendly-but-informative guide provides in-depth coverage on all the newest updates and enhancements to the Office 2013 suite. With an overview of tools common to all Office applications and self-contained minibooks devoted to each Office application, Office 2013 All-in-One For Dummies gets you up to speed and answers the questions you'll have down the road.
- Explores the new Office interface and explains how it works across the applications
- Features eight minibooks that cover Word, Excel, PowerPoint, Outlook, Access, Publisher, OneNote, common Office tools, and ways to expand Office productivity
- Highlights the new online versions of Word, Excel, and PowerPoint as well as changes to the interface and new tools and techniques
Office 2013 All-in-One For Dummies makes it easy to learn to use Office and gets you up and running on all the changes and enhancements in Office 2013.
My Link