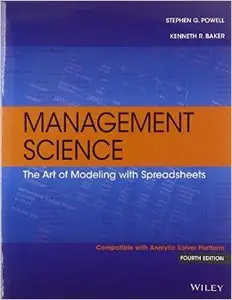 Management Science: The Art of Modeling with Spreadsheets, 4 edition by Stephen G. Powell and Kenneth R. Baker
English | 2013 | ISBN: 1118582691 | 544 pages | PDF | 24,4 MB
Management Science provides students and business analysts with the technical knowledge and skill needed to develop real expertise in business modeling. The authors cover spreadsheet engineering, management science, and the modeling craft. The text is designed to improve modeling efficiency and modeling effectiveness by focusing on the most important tasks and tools.
My nickname -
interes