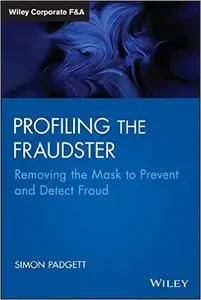 Simon Padgett, "Profiling the Fraudster: Removing the Mask to Prevent and Detect Fraud"
English | ISBN: 1118871049 | 2015 | 272 pages | PDF | 7 MB
Detect and combat corporate fraud with new profiling techniques
Profiling the Fraudster: Removing the Mask to Prevent and Detect Fraud takes a step–by–step approach beyond the Fraud Triangle to identify characteristics in potential fraudsters, employees and new hires that will sound alarm bells before they get their hands on your organization′s assets. The typical organization loses a staggering 5% of its annual revenue to fraud. Traditional fraud investigations focus on the breakdown of internal controls but what happens when the human beings forming a key component of that chain of control are inherently dishonest? This book shows you how to recognize the characteristics and behavioral patterns of potential fraudsters who are entrusted with safeguarding corporate assets. The book includes:
An in–depth look at fraud investigation techniques and how these can be enhanced by using the characteristics of fraudulent behavior,
A detailed look at profiling potential perpetrators of fraud,
A detailed breakdown of how to compile a fraud profile,
A discussion of a wide range of organizational fraud, including abuse of power, embezzlement, computer fraud, expense abuse, and more,
Tables, illustrations, and diagrams to enhance the narrative
If you′re a corporate fraud investigator, auditor, forensic accountant, law enforcement professional, or anyone challenged with safeguarding your organizations assets Profiling the Fraudster shows you how to remove the mask and prevent and detect fraud.