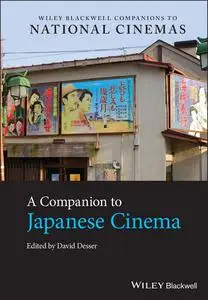 A Companion to Japanese Cinema (Wiley Blackwell Companions to National Cinemas) by David Desser
2022 | ISBN: 1118955323 | English | 720 pages | PDF/EPUB | 23/135 MB
Go beyond Kurosawa and discover an up-to-date and rigorous examination of historical and modern Japanese cinema
In A Companion to Japanese Cinema, distinguished cinematic researcher David Desser delivers insightful new material on a fascinating subject, ranging from the introduction and exploration of under-appreciated directors, like Uchida Tomu and Yoshimura Kozaburo, to an appreciation of the Golden Age of Japanese cinema from the point of view of little-known stars and genres of the 1950s.
This Companion includes new resources that deal in-depth with the issue of gender in Japanese cinema, including a sustained analysis of Kawase Naomi, arguably the most important female director in Japanese film history.
Readers will appreciate the astute material on the connections and relationships that tie together Japanese television and cinema, with implications for understanding the modern state of Japanese film. The Companion concludes with a discussion of the Japanese media's response to the 3/11 earthquake and tsunami that devastated the nation.
Perfect for upper-level undergraduate and graduate students studying Japanese and Asian cinema, A Companion to Japanese Cinema is a must-read reference for anyone seeking an insightful and contemporary discussion of modern scholarship in Japanese cinema in the 20th and 21st centuries.