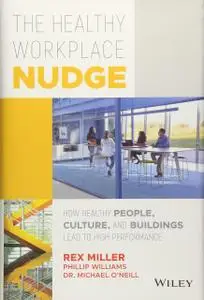 The Healthy Workplace Nudge: How Healthy People, Culture, and Buildings Lead to High Performance
Wiley | English | 2018 | ISBN-10: 1119480124 | 320 pages | PDF | 40.34 MB
by Rex Miller (Author), Phillip Williams (Author), Michael O'Neill (Author)
Discover how healthy buildings, culture, and people lead to high profits
Organizations and employees now spend an average of $18,000 per year per employee for health costs, a 61% increase in 10 years. Every indicator projects these costs will double before 2030. This is an unsustainable path. These costs are the tip to an even bigger iceberg, the hidden costs of time out of the office, distraction, disengagement, and turnover. The Healthy Workplace Nudge explains the findings of research on 100 large organizations that have tackled the problems of employee health costs and disengagement in five fresh ways:
Well-being leads to health and high performance
Wake up to the fact that 95% of traditional wellness programs fail to improve health or lower costs
Behavioral economics has become a new powerful tool to nudge healthy behavior
Healthy buildings are now cost effective and produce your strongest ROI to improving health
Leaders who develop healthy cultures achieve sustainable high performance and employee wellbeing
In addition to proving highly effective, these approaches represent a fraction of the cost sunk into traditional wellness and engagement programs. The book explains how to create a workplace that is good for people, releases them to what they do best and enjoy most, and produces great and profitable work.
• Find actionable strategies and tactics you can put into use today
• Retain happy, productive talent
• Cut unnecessary spending and boost your bottom line
• Benefit from real-world research and proven practice
If you're a leader who cares about the health and happiness of your employees, a human resource professional, or a professional who develops, designs, builds, or outfits workplace environments to improve employee health and wellbeing, this is one book you'll want to have on hand
PRAISE FOR THE HEALTHY WORKPLACE NUDGE
"The Healthy Workplace Nudge is not your standard wellness-for-business book. In fact, Rex Miller directly challenges most of the ways companies deliver wellness programs to their employees. His team of researchers addresses why we need wellness programs in the first place: a lack of care. More than that, this book provides new pathways and practical approaches. Most importantly, it calls for a new kind of leadership. A leadership of care."
—Bob Chapman, CEO, Barry-Wehmiller; coauthor, Everybody Matters: The Extraordinary Power of Caring for Your People Like Family
"Workplaces are killing people, costing economies and business fortunes in the process, and no one seems to care – or believes that anything can change. The Healthy Workplace Nudge shows what it would take to enhance employee well-being and provides compelling examples of the change that is possible."
—Jeffrey Pfeffer, author, Dying for a Paycheck; professor, Stanford Graduate School of Business
"Creating environments that allow people to be their best selves every day is not just a nice to have; it's a business imperative. While everyone agrees philosophically that healthy, happy employees are tantamount to innovative and successful business, rapid change in the wellness industry demands a clearer definition of the hows and whys of employee health. This book masterfully cuts through the noise to shed light on to what works and what doesn't. Rex has truly helped carve the way to the future of the workplace."
—Ryan Picarella, president, Wellness Council of America, WELCOA
Feel Free to contact me for book requests, informations or feedbacks.