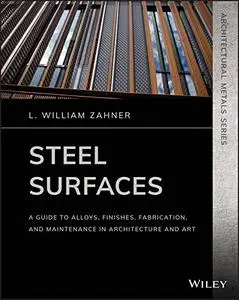 Steel Surfaces: A Guide to Alloys, Finishes, Fabrication, and Maintenance in Architecture and Art
(Architectural Metals Series)
by L. William Zahner
English | 2021 | ISBN: 111954162X | 400 Pages | PDF EPUB (True) | 474 MB
Steel Surfaces, fourth in Zahner's Architectural Metals Series, provides a comprehensive and authoritative treatment of steel applications in architecture and art. It offers architecture and design professionals the information they need to ensure proper maintenance and fabrication techniques through detailed information and full-color images. It covers everything from the history of the metal and choosing the right alloy, to detailed information on a variety of surface and chemical finishes and corrosion resistance. The book also features case studies that offer strategies for designing and executing successful projects using steel.