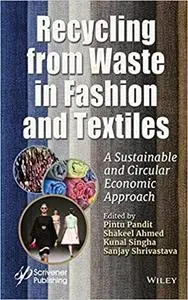 Pintu Pandit, "Recycling from Waste in Fashion and Textiles: A Sustainable and Circular Economic Approach"
English | ISBN: 111962049X | 2020 | 496 pages | PDF | 29 MB
The alarming level of greenhouse gases in the environment, fast depleting natural resources and the increasing level of industrial effluents, have made every single manufacturing activity come under the scrutiny of sustainability. When all kinds of waste such as clothes, furniture, carpets, televisions, shoes, paper, food wastes etc. end up in the landfill, only a few of them are naturally decomposed and thus a large majority remains as non-biodegradable. It is for this reason, efforts are concentrated to reduce the burden on earth by this waste, and as far as used textile products are concerned, there are now attempts to recycle or up-cycle. This book addresses the role of sustainability by using textile waste in fashion and textiles with respect to manufacturing, materials, as well as the economic and business challenges and opportunities it poses.
This wide-ranging book comprises 19 chapters on the various topics including:
· Solutions for sustainable fashion and textile industry
· Agro and bio waste in the fashion industry
· Innovating fashion brands by using textile waste
· Waste in handloom textiles
· Business paradigm shifting: 21st century fashion from recycling and upcycling
· Utilization of natural waste for sustainable textile coloration
· Circular economy in fashion and textile from waste
· Future pathways of waste utilization for fashion
· Sustainable encapsulation of natural dyes from Plant waste for textiles
· Agro-waste applications for bio-remediation of textile effluent