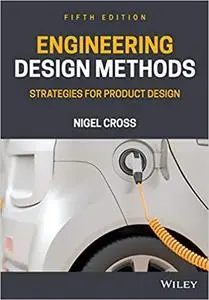 Engineering Design Methods
by Nigel Cross, Cross
English | 2021 | ISBN: 11 19724376| 220 pages | True PDF | 7.25 MB
A revised text that presents specific design methods within an overall strategy from concept to detail design
The fifth edition of Engineering Design Methods is an improved and updated version of this very successful, classic text on engineering product design. It provides an overview of design activities and processes, detailed descriptions and examples of how to use key design methods, and outlines design project strategies and management techniques. Written by a noted expert on the topic, the new edition contains an enriched variety of examples and case studies, and up to date material on design thinking and the development of design expertise.
This new edition opens with a compelling original case study of a revolutionary new city-car design by ex-Formula One designer Gordon Murray. The study illustrates the complete development of a novel design and brings to life the process of design, from concept through to prototype. The core of the book presents detailed instructions and examples for using design methods throughout the design process, ranging from identifying new product opportunities, through establishing functions and setting requirements, to generating, evaluating and improving alternative designs. This important book:
Offers a revised and updated edition of an established, successful text on understanding the design process and using design methods
Includes new material on design thinking and design ability and new examples of the use of design methods
Presents clear, detailed and illustrated presentations of eight key design methods in engineering product design
Written for undergraduates and postgraduates across all fields of engineering and product design, the fifth edition of Engineering Design Methods offers an updated, substantial, and reliable text on product design and innovation.