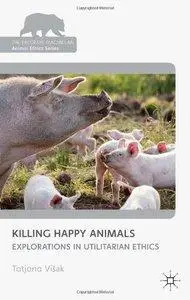 Tatjana Višak, "Killing Happy Animals: Explorations in Utilitarian Ethics"
English | 2013 | ISBN: 1137286261 | 202 pages | PDF | 2 MB
Is it acceptable to kill an animal that has been granted a pleasant life? This book rigorously explores the moral basis of the ideal of animal-friendly animal husbandry. Utilitarianism is recognised as being the moral theory that, historically, has contributed most to the recognition of animal suffering as an evil. This book sheds new light on utilitarian moral theory by pointing out the assumptions and implications of two different versions of utilitarianism. One version, total utilitarianism, can indeed morally justify the routine killing of animals, provided that they have been granted pleasant lives. The other version, prior existence utilitarianism, implies a much stronger protection for animals, both human and non-human. Hence, in opposition to what is typically brought forward in the classrooms and in the literature, the utilitarian concern with animals need not be restricted to the avoidance of suffering. Utilitarianism has the resources to oppose the routine killing of animals, as practiced in animal husbandry and many other common practices of animal use.