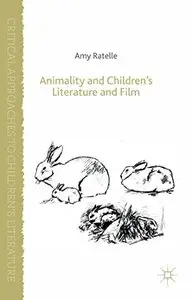 Animality and Children's Literature and Film (Critical Approaches to Children's Literature) by Amy Ratelle
English | 2014 | ISBN: 1137373156 | 184 pages | PDF | 0,6 MB
Over the past decade, animal/child relations have become the central focus of children's and young adult studies. Scholars to date, however, have continued to read the animal as a symbol of the human, or as a medium authors have used for didactic ends. This common assumption has resulted in framework that has ignored the rights and agency of not only animals, but children themselves. Children are asked both implicitly and explicitly to identify with animals, but then to position themselves as distinctly human through the mode of their interactions with both lived animals and those depicted in literature and film.
By examining culturally significant and widely popular works of children's culture through a posthumanist, or animality studies lens, Animality and Children's Literature and Film argues that Western philosophy's objective to establish a notion of an exclusively human subjectivity is continually countered in the very texts that ostensibly work to configure human identity.
Animality and Children's Literature and Film explores the question of identity formation – child/adult, animal/human – and investigates the overlapping, double-sided rhetorics addressing children, childhood and animals. In her analysis, Amy Ratelle draws upon popular and beloved children's texts, from Black Beauty and Charlotte's Web to contemporary films to reflect on the ways in which literature geared toward a child audience reflects and contributes to the cultural tensions created by the oscillation between upholding and undermining the divisions between the human and the animal.