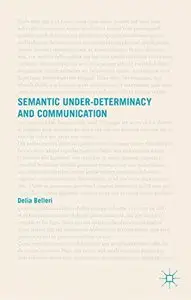 Semantic Under-determinacy and Communication by Delia Belleri
English | 2014 | ISBN: 1137398434 | 208 pages | PDF | 0,6 MB
This book investigates the phenomenon of semantic under-determinacy by arguing for its distinctiveness and non-reducibility to other familiar phenomena, and addresses the question of how communication is possible despite it. Belleri argues that the comprehension of utterances of semantically under-determined sentences is made possible by our mastery of certain conceptual constraints, as well as the information we gain from the context, which does not necessarily concern the intentions and beliefs of the speaker. The book combines a fresh, previously unexplored view of the subject with a detailed overview of the past and ongoing philosophical discussion on the matter.