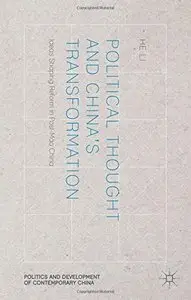 Political Thought and China's Transformation: Ideas Shaping Reform in Post-Mao China (Politics and Development of Contemporary China) by He Li
English | 2015 | ISBN: 1137427809 | 224 pages | PDF | 1,5 MB
Since the late 1970s China has undergone a dramatic transformation, during which time the country has experienced an outpouring of competing schools of thought including liberalism, neo-authoritarianism, new leftism, democratic socialism, and new Confucianism. These theoretical paradigms have affected the pace, scope, content, and nature of China's reform. Though it would be impossible to represent every nuance of opinion on every issue in post-Mao China, He Li examines the major schools of political thought that are redefining the country's transformation. The author also introduces readers to the most influential Chinese thinkers and their debates on vital issues that China faces today such as democracy, economic reform, and regime legitimacy. The interdisciplinary nature of this book makes it relevant to a number of different academic disciplines including Asian Studies, Chinese Politics, political theory, and political science.