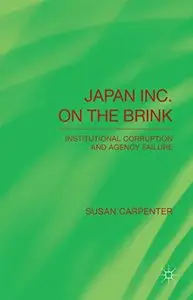 Japan Inc. on the Brink: Institutional Corruption and Agency Failure by Susan Carpenter
English | 2014 | ISBN: 1137469439 | 344 pages | PDF | 1,2 MB
Based on the assessment of entrenched vested interests in Japan's political economy and the rigidity of the Japan Inc model, this book contends that structural reforms, the essential third arrow in Abe's 'Abenomics', will not happen. As a result, Abenomics is merely a combination of reckless monetary policy and ambiguous fiscal policies which will fail to regenerate Japan's fragile economy and cut sovereign debt. Japan Inc. on the Brink evaluates the consequences of Japan's protectionist policies throughout the post-war period on Japan's' current economic dilemma and details the continuing impact of the bursting of the asset-inflated bubble in 1989, discussing (i) the tendency of Japanese firms to over-invest and abandon their core competencies since the mid-1980s: (ii) creditor-corporate relations (percentages of shares and directorships); (ii) why large business failed during the past two decades, despite continuous capital investment and loans from creditors; (iv) why banks continued to loan to zombie companies; (v) reasons for the reticence of banks to change banking behaviour despite more regulation and monitoring by the MOF and FSA; (v) institutional corruption leading to agency failure.