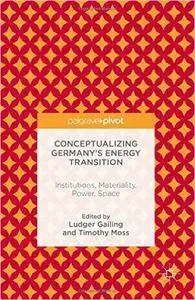 Conceptualizing Germany's Energy Transition: Institutions, Materiality, Power, Space by Ludger Gailing and Timothy Moss
English | 2016 | ISBN: 1137505923, 1349700754 | 147 pages | PDF | 1,8 MB
This is the first book to explore ways of conceptualizing Germany's ongoing energy transition. Although widely acclaimed in policy and research circles worldwide, the Energiewende is poorly understood in terms of social science scholarship. There is an urgent need to delve beyond descriptive accounts of policy implementation and contestation in order to unpack the deeper issues at play in what has been termed a 'grand societal transformation.' The authors approach this in three ways: First, they select and characterize conceptual approaches suited to interpreting the reordering of institutional arrangements, socio-material configurations, power relations and spatial structures of energy systems in Germany and beyond. Second, they assess the value of these concepts in describing and explaining energy transitions, pinpointing their relative strengths and weaknesses and exploring areas of complementarity and incompatibility. Third, they illustrate how these concepts can be applied – individually and in combination – to enrich empirical research of Germany's energy transition.