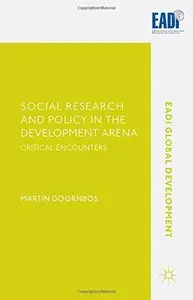 Social Research and Policy in the Development Arena: Critical Encounters (EADI Global Development Series) by Martin Doornbos
English | 2015 | ISBN: 1137548517 | 248 pages | PDF | 1 MB
The author analyzes the research-policy nexus in development studies, highlighting reciprocal orientations and interactions between the domains of social research and of policy and politics. The study deals with instances where these domains are complementary and geared towards common objectives, but also with others marked by opposing premises. The underlying idea is not to arrive at any 'one best formula', as the interests and objectives of research and researchers on the one hand, and those of politics and policy-makers on the other, are often vastly different and based on contrasting rationales. Instead, Martin Doornbos aims at illustrating potential sources of tension between these respective spheres, tracing the silent battles waged between them while also recognizing instances where research has played a meaningful role vis-à-vis policy  - for instance, in bridging informational gaps towards policy deliberation or in assessing policy outcomes. This book therefore seeks to provide a better understanding of the conditions determining conflict and cooperation between policy and social research.