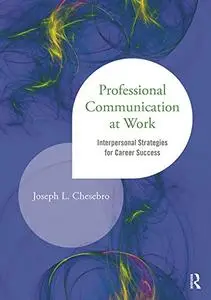 Professional Communication at Work: Interpersonal Strategies for Career Success by Joseph L. Chesebro
English | July 16, 2014 | ISBN: 1138014192, 1138014184 | PDF | 284 pages | 1.7 MB
This text prepares future professionals for success in the workplace through identifying interpersonal communication skills and strategies and exploring when, how, and why to use them. Informed by academic research, professional literature, and author Joseph L. Chesebro's own experiences, the text explores and demonstrates the skills that have facilitated Chesebro's own students to find work and to succeed in their professional lives.
Offering a very practical focus on such topics as handling conflict and giving dynamic presentations, Professional Communication at Work also covers essential interpersonal communication skills that are often not discussed, such as:
Using networking when job hunting;
Earning a good reputation as a new employee
Using storytelling and questioning more often
Developing coaching relationships with the best senior employees in our workplace,
Practicing and developing new skills on our own, and
Using workplace politics in a positive and constructive way to accomplish our goals.
Utilizing the approach of a supportive communication coach, this text will help readers gain a variety of practical communication strategies they can apply to contribute to success in their own careers.