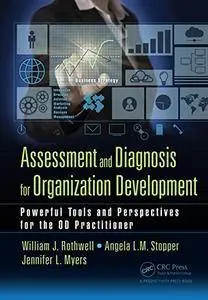 Assessment and Diagnosis for Organization Development: Powerful Tools and Perspectives for the OD Practitioner by William J Rothwell, Angela L.M. Stopper, Jennifer L. Myers
2017 | ISBN: 1138033340, 1138721131 | English | 216 pages | PDF | 2 MB
Although the theory and methods of organization development (OD) assessment and diagnosis have been covered in other books, there is a lack of practitioner-focused guides that introduce real-world case studies and tools rooted in the methodology. This book will fill that gap, providing practical perspective and insight from practitioners and consultants currently practicing OD assessment and diagnosis. Organization Development (OD) differs from management consulting in that OD assessment and diagnosis is not a prescriptive consulting engagement. Instead, OD methods include engaging clients to build change leadership initiatives customized to their particular situation. OD is not about a consultant telling a client company what to do. It is about an OD professional guiding client companies on their journey towards the best end point for their particular situation. This book will address that journey. The theory and foundational principles of OD are covered, but the primary focus is on providing practical applications to businesses. While the book is grounded in sound academic theory, its strength is its practitioner-focused methodology containing vignettes and tools that individuals can use to help guide the assessment and diagnosis efforts in their own or their client organizations.