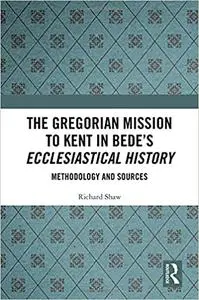 Richard Shaw, "The Gregorian Mission to Kent in Bede's Ecclesiastical History: Methodology and Sources"
English | ISBN: 113806081X | 2018 | 288 pages | PDF | 5 MB
Historians have long relied on Bede's Ecclesiastical History for their narrative of early Christian Anglo-Saxon England, but what material lay behind Bede's own narrative? What were his sources and how reliable were they? How much was based on contemporary material? How much on later evidence? What was rhetoric? What represents his own agendas, deductions or even inventions?
This book represents the first systematic attempt to answer these questions for Bede's History, taking as a test case the coherent narrative of the Gregorian mission and the early Church in Kent. Through this critique, it becomes possible, for the first time, to catalogue Bede's sources and assess their origins, provenance and value – even reconstructing the original shape of many that are now lost. The striking paucity of his primary sources for the period emerges clearly. This study explains the reason why this was the case. At the same time, Bede is shown to have had access to a greater variety of texts, especially documentary, than has previously been realised.
This volume thus reveals Bede the historian at work, with implications for understanding his monastery, library and intellectual milieu together with the world in which he lived and worked. It also showcases what can be achieved using a similar methodology for the rest of the Ecclesiastical History and for other contemporary works.
Most importantly, thanks to this study, it is now feasible – indeed necessary – for subsequent historians to base their reconstructions of the events of c.600 not on Bede but on his sources. As a result, this book lays the foundations for future work on the conversion of Anglo-Saxon England and offers the prospect of replacing and not merely refining Bede's narrative of the history of early Christian Kent.