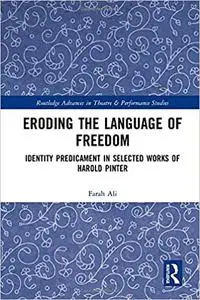 Farah Ali, "Eroding the Language of Freedom: Identity Predicament in Selected Works of Harold Pinter "
English | ISBN: 1138080195 | 2017 | 286 pages | PDF | 1213 KB
Let down by the uncertainties of memory, language, and their own family units, the characters in Harold Pinter's plays endure persistent struggles to establish their own identities.
Eroding the Language of Freedom re-examines how identity is shaped in these plays, arguing that the characters' failure to function as active members of society speaks volumes to Pinter's ideological preoccupation with society's own inadequacies. Pinter described himself as addressing the state of the world through his plays, and in the linguistic games, emotional balancing acts, and recurring scenarios through which he put his characters, readers and audiences can see how he perceived that world.