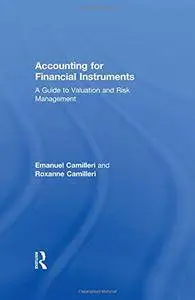 Accounting for Financial Instruments: A Guide to Valuation and Risk Management by Emanuel Camilleri
English | 2017 | ISBN: 1138237574, 9781138237575, B0716TFKVM | 438 Pages | PDF | 2.88 MB
Accounting for Financial Instruments is about the accounting and regulatory framework associated with the acquisition and disposal of financial instruments; how to determine their value; how to manage the risk connected with them; and ultimately compile a business valuation report. Specifically, the book covers the following topics, amongst others: Accounting for Investments; Bills of exchange; Management of Financial Risks; Financial Analysis (including the Financial Analysis Report); Valuation of a business (including the Business Valuation Report) and Money laundering. Accounting for Financial Instruments fills a gap in the current literature for a comprehensive text that brings together relevant accounting concepts and valid regulatory framework, and related procedures regarding the management of financial instruments (investments), which are applicable in the modern business world. Understanding financial risk management allows the reader to comprehend the importance of analysing a business concern. This is achieved by presenting an analytical framework to illustrate that an entity's performance is greatly influenced by its external and internal environments. The analysis of the external environment examines factors that impact an entity's operational activities, strategic choices, and influence its opportunities and risks. The analysis of the internal environment applies accounting ratio analysis to an entity's financial statements to examine various elements, including liquidity, profitability, asset utilisation, investment, working capital management and capital structure. The objective of the book is to provide a fundamental knowledge base for those who are interested in managing financial instruments (investments) or studying banking and finance or those who wish to make financial services, particularly banking and finance, their chosen career. Accounting for Financial Instruments is highly applicable to both professional accountants and auditors and students alike.