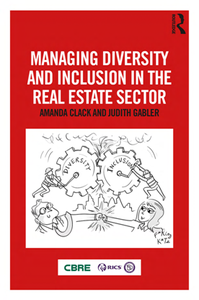 Managing Diversity and Inclusion in the Real Estate Sector
by Amanda Clack and Judith Gabler
English | 2019 | ISBN: 1138368911 | 181 Pages | PDF | 7.54 MB
Research shows that high-performing organisations focus on diversity and inclusion (D&I). In any workplace, it is important to both understand and recognise the benefits that having a D&I workforce provides. It is integral to developing people within an organisation, serving clients as best we can, and playing an important leadership role in communities.
This book is the first to place D&I at the centre of successful real estate and construction organisations. It provides guidance to, and most importantly, actions for professionals in the sector who want to make D&I an inherent part of the culture of their organisation. This book has been written to bring the sector up to speed with what D&I is all about and how a D&I strategy can be implemented to secure future success. It presents a practical and easy-to-read guide that can help organisations and their leaders engage with and apply this agenda to win the war for talent in real estate and construction.
This book is essential reading for all property leaders and professionals working in the real estate and construction sectors. Readers will gain especially from personal reflections on all aspects of diversity by a broad range of people working in the property industry.
If you want to support my blog, then you can buy a premium account through any of my files (i.e. on the download page of my book). In this case, I get a percent of sale and can continue to delight you with new books!