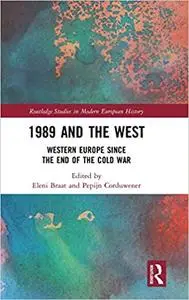 Eleni Braat, "1989 and the West: Western Europe since the End of the Cold War "
English | ISBN: 1138505072 | 2019 | 290 pages | PDF | 3 MB
Back in 1989, many anticipated that the end of the Cold War would usher in the 'end of history' characterized by the victory of democracy and capitalism. At the thirtieth anniversary of this momentous event, this book challenges this assumption. It studies the most recent era of contemporary European history in order to analyse the impact, consequences and legacy of the end of the Cold War for Western Europe. Bringing together leading scholars on the topic, the volume answers the question of how the end of the Cold War has affected Western Europe and reveals how it accelerated and reinforced processes that shaped the fragile (geo-)political and economic order of the continent today.
In four thematic sections, the book analyses the changing position of Germany in Europe; studies the transformation of neoliberal capitalism; answers the question how Western Europe faced the geopolitical challenges after the Berlin Wall came down; and investigates the crisis of representative democracy. As such, the book provides a comprehensive and novel historical perspective on Europe since the late 1980s.