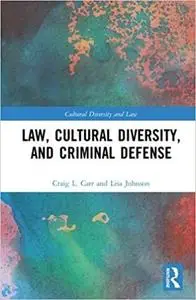 Craig L. Carr, "Law, Cultural Diversity, and Criminal Defense "
English | ISBN: 1138581178 | 2018 | 160 pages | PDF | 838 KB
American legal scholars have debated for some time the need for a cultural defense in criminal proceedings where minority cultural information seems perti nent to a finding of criminal responsibility in situations where a minority cultural defendant has violated a valid criminal statute. This work presents a systematic analysis of this issue. Drawing from sociological, anthropological, and philosophical materials, as well as traditional legal discussions, the authors develop a scheme that indicates when cultural factors can be used as the basis for such a defense and when they are irrelevant to a finding of criminal responsibility. The argument moves from general concerns of social justice that apply under conditions of social and cultural pluralism to practical policy recommendations for the operation of American criminal justice. It thus connects more theoretical materials with the practical concerns of jurisprudence. The justification for legal recognition of a cultural defense in American criminal law is anchored firmly in American constitutional law.