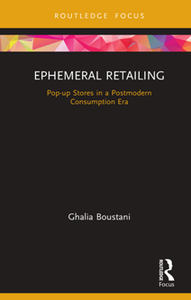 Ephemeral Retailing : Pop-up Stores in a Postmodern Consumption Era
by Ghalia Boustani
English | 2020 | ISBN: 113858696X | 127 Pages | ePUB | 1.8 MB
Often described as the 'hottest' retail phenomenon, ephemeral retail concerns the growth of pop-up stores as a new mode of retailing. These temporary stores 'pop-up' without notice, quickly attract crowds, then disappear or morph into something else. Although they share similarities with traditional physical stores and online stores, ephemeral stores outshine existing retail formats as they have many unique and differentiating characteristics.
These stores are becoming more popular among distribution channels as they offer exclusive and surprising retail experiences. Many established brands have already integrated these new points of sale into their distribution channels, while other brands are adopting them to raise communication, awareness, sales or just for experimentation. This phenomenon is finding its place amongst retailers not only for its efficiency and effectiveness but also for its unique impact, providing a sense of novelty that makes it particularly attractive to postmodern consumers seeking hedonic experiences.
This concise text introduces all aspects of this growing phenomenon and contextualises it within existing channels of distribution. It explores brand atmospheric interventions that are designed to affect customer emotions, behaviours or experiences, as well as practices retailers adopt to build relationships with their customers. It will be of interest to scholars and advanced students in retail marketing and branding.
If you want to support my blog, then you can buy a premium account through any of my files (i.e. on the download page of my book). In this case, I get a percent of sale and can continue to delight you with new books!