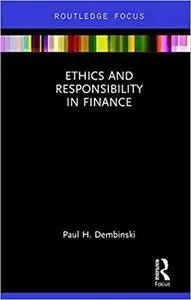 Ethics and Responsibility in Finance by Paul H. Dembinski
English | 2017 | ISBN: 1138637904, 0367607433 | 86 pages | PDF | 1 MB
From the mid-1970s until the crisis in 2007, the world of finance enjoyed thirty euphoric years as the general public, businesses and governments put their blind trust in financial techniques, professions and institutions. Shaken up by a structural crisis and a crisis of legitimacy, today's financial sector can no longer afford to avoid the issues summed up by the key question: what is next for the role of ethics and responsibility in finance? Many see an unbridgeable gap between ethics and responsibility and financial practice. Ethics and Responsibility in Finance paves the way for the dialogue that is needed in order to solve the current problems and allow the return of a refined ethical thinking in the financial sector.
This book opens with an in-depth analysis of the operational implications of two key notions: ethics and responsibility. It then addresses ethical dilemmas that are characteristic to each of the three actors involved in any financial transaction. This begins with the discussion of the dilemmas of the ultimate owner of funds: the individual or collective saver, as in the case of pension funds. The analysis then turns to financial intermediaries such as banks, insurance companies, asset managers, and consultants, who work in a web of different loyalties. Finally, the dilemmas of the user of funds are addressed – the household taking a mortgage, an enterprise or a public authority which borrows – all of which have to be clear on the reasons and values driving their decisions.
This volume is of great interest to those who study banking, corporate finance and ethics philosophy.
My nickname -
interes