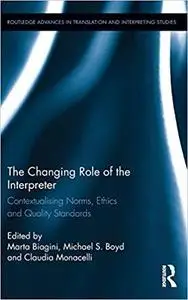 The Changing Role of the Interpreter: Contextualising Norms, Ethics and Quality Standards (Routledge Advances in Translation and Interpreting Studies Book 25) by Marta Biagini, Michael S. Boyd, Claudia Monacelli
English | May 25, 2017 | ISBN: 1138657069 | 274 pages | AZW3 | 2.19 MB
This volume provides a critical examination of quality in the interpreting profession by deconstructing the complex relationship between professional norms and ethical considerations in a variety of sociocultural contexts. Over the past two decades the profession has compelled scholars and practitioners to take into account numerous factors concerning the provision and fulfilment of interpreting. Building on ideas that began to take shape during an international conference on interpreter-mediated interactions, commemorating Miriam Shlesinger, held in Rome in 2013, the book explores some of these issues by looking at the notion of quality through interpreters' self-awareness of norms at work across a variety of professional settings, contextualising norms and quality in relation to ethical behaviour in everyday practice. Contributions from top researchers in the field create a comprehensive picture of the dynamic role of the interpreter as it has evolved, with key topics revisited by the addition of new contributions from established scholars in the field, fostering discussion and further reflection on important issues in the field of interpreting. This volume will be key reading for scholars, researchers, and graduate students in interpreting and translation studies, pragmatics, discourse analysis, and multilingualism.