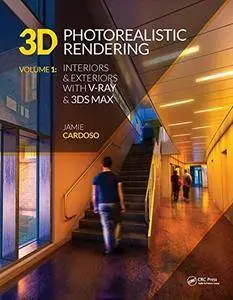 3D Photorealistic Rendering: Interiors & Exteriors with V-Ray and 3ds Max by Jamie Cardoso
English | 2016 | ISBN: 1138780723, 1138780731 | 566 pages | PDF | 47 MB
Increase the photorealism of your 3d visualizations with enhanced toolsets of V-ray in 3ds Max. Full-color, step-by-step tutorials about techniques involved in creating photorealistic renders for interior/exterior scenes. Each tutorial includes a 3d project scene to guide you through, production and post-production. The production chapter shows how to create shaders, fine-tune textures and set up a day/night lighting rig. You will be rendering high-res images with render elements included for the final stage of post-production. The book also includes tips about, pre-production, camera settings, verified views, material editors, shaders, 3ds max scripts, and much more!