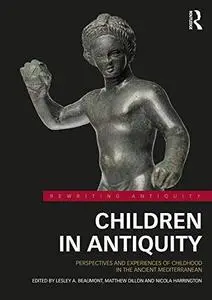 Children in Antiquity: Perspectives and Experiences of Childhood in the Ancient Mediterranean (Rewriting Antiquity) by Lesley A. Beaumont, Matthew Dillon, Nicola Harrington
2021 | ISBN: 1138780863 | English | 656 pages | PDF | 121 MB
This collection employs a multi-disciplinary approach treating ancient childhood in a holistic manner according to diachronic, regional and thematic perspectives. This multi-disciplinary approach encompasses classical studies, Egyptology, ancient history and the broad spectrum of archaeology, including iconography and bioarchaeology.
With a chronological range of the Bronze Age to Byzantium and regional coverage of Egypt, Greece, and Italy this is the largest survey of childhood yet undertaken for the ancient world. Within this chronological and regional framework both the social construction of childhood and the child's life experience are explored through the key topics of the definition of childhood, daily life, religion and ritual, death, and the information provided by bioarchaeology. No other volume to date provides such a comprehensive, systematic and cross-cultural study of childhood in the ancient Mediterranean world. In particular, its focus on the identification of society-specific definitions of childhood and the incorporation of the bioarchaeological perspective makes this work a unique and innovative study.
Children in Antiquity provides an invaluable and unrivalled resource for anyone working on all aspects of the lives and deaths of children in the ancient Mediterranean world.