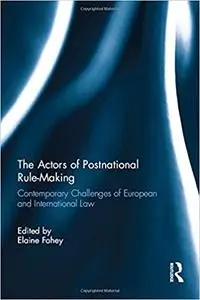 Elaine Fahey, "The Actors of Postnational Rule-Making: Contemporary challenges of European and International Law"
English | ISBN: 1138856665 | 2015 | 254 pages | PDF | 5 MB
Despite its centrality to academic discussions of power and influence, there is little consensus in legal scholarship over what constitutes an actor in rule-making. This book explores the range of actors involved in rule-making within European Union law and Public International law, and focuses especially on actors that are often overlooked by formative and doctrinal approaches.
Drawing together contributions from many scholars in various fields the book examines such issues as the accommodation of new actors in the process of postnational rule-making, the visibility or covertness of actors within the process, and the role of social acceptance and legitimacy in postnational rule-making.
In its endeavour to render and examine the work and effect of actors often side-lined in the study of postnational rule-making, this book will be of great use and interest to students and scholars of EU law, international law and socio-legal studies.