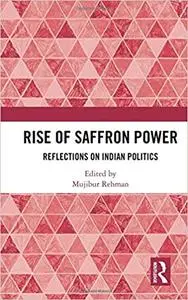 Mujibur Rehman, "Rise of Saffron Power: Reflections on Indian Politics"
English | ISBN: 1138897272 | 2018 | 418 pages | PDF | 4 MB
This volume looks at the impact of the landmark 2014 elections and the consequent Assembly elections which have transformed the ideological discourse of India. It discusses a variety of topical issues in contemporary Indian politics, including the Modi wave, Aam Aadmi Party and the challenges it is confronting today, Hindutva and minorities, the decline of the Congress party, changes in foreign policy, as well as phenomenona like 'love jihad' and ghar wapsi. It also draws together political trends from across the country, especially key states like Uttar Pradesh, Punjab, Kerala, Tamil Nadu, Telangana and Seemandhra, West Bengal, Jammu and Kashmir, and Meghalaya.
The volume will be of great importance to scholars and researchers of Indian politics, public policy, sociology, and social policy.