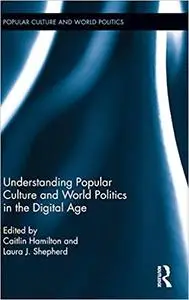 Laura J. Shepherd, Caitlin Hamilton, "Understanding Popular Culture and World Politics in the Digital Age"
English | ISBN: 1138940283 | 2016 | 208 pages | PDF | 3 MB
The practices of world politics are now scrutinised in a way that is unprecedented, with even those previously – or conventionally assumed to be – disengaged from international affairs being drawn into world politics by social media. Interactive websites allow users to follow election results in real-time from the other side of the world, and online mapping means that the world 'out there' is now available on your mobile phone. Understanding Popular Culture and World Politics in the Digital Age engages these themes in contemporary world politics, to better understand how digital communication through new media technologies changes our encounters with the world.
Whether the focus is digital media, social networking or user-generated content, these sites of political activity and the artefacts they produce have much to tell us about how we engage world politics in the contemporary age. This volume represents the starting point of a dialogue about how digital technologies are beginning to impact the research and practice of scholars and practitioners in the field of International Relations, with the collection of cutting-edge essays dealing specifically with the intertextuality of world politics and digital popular culture.
This book will be of use to International Relations research academics (and critically engaged publics) interested in the core themes of global politics – subjectivity, militarism, humanitarianism, civil society organisation, and governance. The book also employs theories and techniques closely associated with other social science disciplines, including political theory, sociology, cultural studies and media studies.