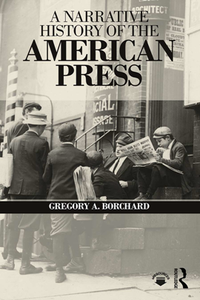 A Narrative History of the American Press
by Gregory A. Borchard
English | 2019 | ISBN: 113899846X | 290 Pages | PDF | 21.4 MB
Beginning with the American Revolution and spanning over two hundred years of American journalism, A Narrative History of the American Press provides an overview of the events, institutions, and people who have shaped the press, from the creation of the First Amendment to today. Gregory A. Borchard's introductory text helps readers develop an understanding of the role of the press in both the U.S. and world history, and how American culture has shaped—and been shaped by—the role of journalism in everyday life. The text, along with a rich array of supplemental materials available online, provides students with the tools used by both reporters and historians to understand the present through the past, allowing readers to use the history of journalism as a lens for implementing their own storytelling, reporting, and critical analysis skills.
If you want to support me, then you can buy a premium account through any of my files (i.e. on the download page of my book). In this case, I get a percent of sale and can continue to delight you with new books!