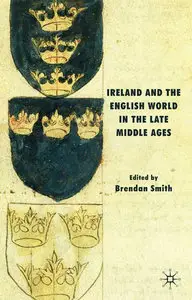 Ireland and the English World in the Late Middle Ages By Brendan Smith
Publisher: Palgrave Macmillan 2009-05-15 | 256 Pages | ISBN: 0230542891 | PDF | 1.2 MB
This volume extends the 'British Isles' approach pioneered by Robin Frame and Rees Davies to the later middle ages. Through examination of issues such as frontier formation, colonial identities and connections with the wider world it explores whether this period saw the bonds between the British Isles weaken, strengthen, or simply alter.
Ireland remained part of the king of England's territories in the late Middle Ages, but effective royal control was reduced by native resistance and by the loosening of ties with the colonial aristocracy. As the energy and attention of the English came to focus on their war with France, within the British Isles, the Scots strengthened their independence while the colonists in Ireland tried to persuade the king that the country was on the point of being lost forever. How close to the truth was this assertion? How deep were English roots in late medieval Ireland? As part of this wider British Isles, and of English royal territories that also included Gascony and for a time Normandy, how did Ireland fare in centuries that saw not only plague and economic contractions, but also the hardening of national sentiments?
List of Contents
Abbreviations
List of Contributors
Robin Frame: An Appreciation; M.Prestwich
Introduction
The British Isles in the Late Middle Ages: Shaping the Regions; B.Smith
Three Thirteenth-Century Declarations of English Rule: Over Aquitaine, Ireland and Wales; J.R.S.Phillips
A Versatile Legal Administrator and More: The Career of John of Fressingfield in England, Ireland and Beyond; P.Brand
Galloway, the Solway Shore and the Nature of Borders; R.M.Blakely
Gascony and the Limits of Medieval British Isles History; A.Ruddick
Roger Mortimer and the Governance of Ireland, 1317-20; P.Dryburgh
The Case against Alexander Bicknor, Archbishop and Peculator; J.Lydon
A People Divided? Language, History and Anglo-Scottish Conflict in the Work of Andrew of Wyntoun; S.Boardman
Policies, Priorities and Principles: The King, the Anglo-Irish and English Justiciars in the Fourteenth Century; B.Hartland
The Ulster Revolt of 1404 – an Anti-Lancastrian Dimension?; K.Simms
Henry V and the Proposal for an Irish Crusade; E.Matthew
Reducing their Barbarous Wildness … unto Civility": England and 'the Celtic Fringe', 1415-1625; S.G.Ellis
A Bibliography of the Published Writings of Robin Frame
Works Cited
Index
Author Biography
BRENDAN SMITH was educated at Trinity College Dublin and was a Newman Scholar at University College Dublin, Ireland before his appointment to the University of Bristol in 1993. His publications include (ed.) Britain and Ireland, 900-1300: Insular Responses to Medieval European Change.

<span style="color:#cc0000"><u>DoWnLoAd FiLe</u></span>
<span style="color:#0033ff"><u>mirror</u></span>
>>:: NO PASSWORD ::<<
mirror
>>::..::!!!NO MIRRORS!!!::..::<<