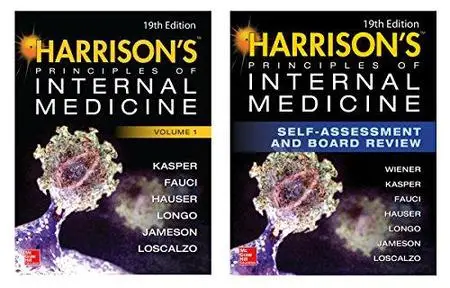 Harrison's Principles and Practice of Internal Medicine 19th Edition and Harrison's Principles of Internal Medicine Self-Assessment and Board Review, 19th Edition (EBook)Val-Pak by J. Larry Jameson, Anthony S. Fauci, Dennis L. Kasper, Stephen L. Hauser , Dan L. Longo (Author), Joseph Loscalzo, Charles Weiner
English | November 18, 2017 | ISBN: 1260128865 | 16363 pages | AZW3 | 34.54 Mb
SPECIAL OFFER! SAVE WHEN YOU PURCHASE HARRISON'S PRINCIPLES OF INTERNAL MEDICINE, 19e ALONG WITH THE COMPANION BOARD REVIEW BOOK!This dollar-saving Harrison's bundle includes two great resources: Harrison's Principles of Internal Medicine, Nineteenth EditionThrough six decades, no resource has matched the authority, esteemed scholarship, and scientific rigor of Harrison's Principles of Internal Medicine. Capturing the countless advances and developments across the full span of medicine, the 19th edition of Harrison's provides a complete update of essential content related to disease pathogenesis, clinical trials, current diagnostic methods and imaging approaches, evidence-based practice guidelines, and established and newly approved treatment methods.Here are just a few of the outstanding features of the Nineteenth Edition:•Presented in two volumes: Volume 1 is devoted to foundational principles, cardinal manifestations of disease and approach to differential diagnosis; Volume 2 covers disease pathogenesis and treatment•NEW chapters on important topics such as Men's Health, The Impact of Global Warming on Infectious Diseases, Fatigue, and many more•Critical updates in management and therapeutics in Hepatitis, Coronary Artery Disease, Ebola Virus Disease, Multiple Sclerosis, Diabetes, Hypertension, Deep Vein Thrombosis and Pulmonary Embolism, Acute and Chronic Kidney Disease, Inflammatory Bowel Disease, Lipoprotein Disorders, HIV and AIDS, and more.•Increased number of the popular Harrison's clinical algorithms; clinically relevant radiographic examples spanning hundreds of diseases; clinical-pathological images in full color; crystal clear, full color drawings and illustrations and helpful tables and summary lists that make clinical application of the content faster than ever•Access to outstanding multi-media resources including practical videos demonstrating essential bedside procedures, physical examination techniques, endoscopic findings, cardiovascular findings, and moreThe package also includes…..Harrison's Principles of Internal Medicine Self-Assessment and Board ReviewBased on the content of Harrison's Principles of Internal Medicine, Nineteenth Edition, this full-color study aid is essential for Internal Medicine Board certification or recertification/maintenance of certification, or as a refresher for any internal medicine examination.Reflecting the accuracy, currency, and wide scope of Harrison's, this complete review of internal medicine delivers more than 1,000 extremely challenging review questions, many of which utilize realistic patient scenarios, including radiographic and pathologic images. Each question is accompanied by explanations for correct and incorrect answers. These explanations – which are derived from and cross-referenced to Harrison's Principles of Internal Medicine, Nineteenth Edition – are one of the most effective ways to learn and teach internal medicine. They are designed to bolster your understanding of pathophysiology, epidemiology, differential diagnosis, clinical decision making, and therapeutics. You will also find a beautiful full-color atlas.