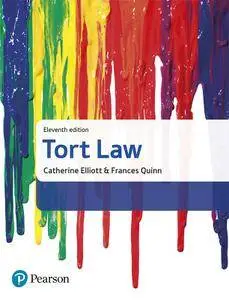 Tort Law
Pearson | English | 2017 | 11th Ed. | ISBN-10: 1292156090 | 457 pages | PDF | 5.98 MB
by Catherine Elliott (Author), Frances Quinn (Author)
Written and designed for use on an LLB or GDL programme, Tort Law combines the authors' trademark clarity of writing with coverage of the fundamental legal principles at play in this ever-evolving subject. A range of student-friendly features to support understanding and coverage of the topical issues and key academic debates within tort also combine to make this text the book of choice for students year after year.
Features:
· The authors' trademark clarity of writing combines with complete coverage of the key topics, case law and statutes at play required for use on LLB or GDL programmes.
· Areas of academic debate, criticisms of the current law and reform options are highlighted throughout the text to encourage the reader to analyse and develop their own views on the more controversial areas of tort law
· The authors use a range of tools to help you to get to grips with the subject quickly and to reinforce your understanding, including:
o Key case boxes to help you identify and understand the legal principles developed from leading case law
o Typical exam questions and detailed guidance on answering them to illustrate how to apply the legal principles in exams
o Additional reading suggestions to encourage you to read more widely around the subject
Author
Catherine Elliott (LLB, DEA) is a qualified barrister and experienced university lecturer, who has written extensively in the field of law.
Frances Quinn is an award-winning journalist with a particular interest in, and experience of, the law.