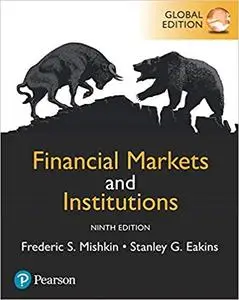 Financial Markets and Institutions, Global Edition, 9th edition by Frederic Mishkin, Stanley Eakins
English | 2018 | ISBN: 1292215003 | 696 pages | PDF | 12,4 MB
This title is part of a new Pearson program pilot offering students the option to rent a print textbook for fall 2017. By having affordable access to the best learning materials and experiences from day-one, students come to class prepared and ready to succeed. Additional details on the rental program will be coming soon.
For courses in financial markets.
Real-world applications help students navigate the shifting financial landscape
Financial Markets and Institutions takes a practical approach to the changing landscape of financial markets and institutions. Best-selling authors Frederic S. Mishkin and Stanley G. Eakins use core principles to introduce students to topics, then examine these models with real-world scenarios. Empirical applications of themes help students develop essential critical-thinking and problem-solving skills, preparing them for future careers in business and finance. The 9th Edition combines the latest, most relevant information and policies with the authors' hallmark pedagogy to give instructors a refined tool to improve the learning experience.