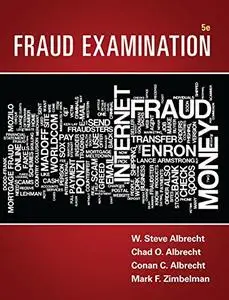 Mark Zimbelman, "Fraud Examination"
English | ISBN: 1305079140 | 2015 | PDF | 696 pages | 21 MB
Learn to identify, detect, investigate, and prevent financial fraud today with the latest edition of FRAUD EXAMINATION, 5E. You gain a strong understanding of the types of fraud and nature of fraud investigation today with current business examples and numerous actual fraud cases, delivered first-hand from the authors' experience. The book presents today's most important fraud concepts with an emphasis on the growing area of ebusiness fraud. Significant discussion familiarizes you with forensic analysis. You also review legal options for victims of fraud. New discussion emphasizes how technology is often used to accomplish fraud and how it can be used most effectively to detect fraud. Each new edition includes new ACL Software, the foremost fraud software on the market.