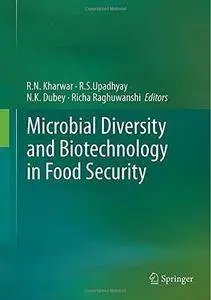 Microbial Diversity and Biotechnology in Food Security By R.N. Kharwar, R.S. Upadhyay, N.K. Dubey, Richa Raghuwanshi
2014 | 610 Pages | ISBN: 8132218000 | PDF | 21 MB
The roles of microbes in agriculture, industry and environment have been the point of interest since long time for their potential exploitation. Although only a fraction of microbial diversity was accessed by microbiologists earlier for harnessing them owing to limited techniques available. The molecular techniques have opened new vistas to access the wide field of the unexplored microbes and their exploitation for useful genes and novel metabolites. Sincere efforts have been made in biotechnology using microbes leading to improve our life with respect to agriculture and people health. This comprehensive volume covers different aspects of microbial biotechnology and its management in sustainable agriculture for food security and improved human health. The book comprises four sections: Endophytes and Mycorrhizae, Microbial Diversity and Plant Protection, Microbial Functions and Biotechnology, and Microbes and the Environment, which contain 53 chapters. The book examines the aspects on endophytes and mycorrhizae, bioactive compounds, growth promoting microorganisms, disease management with emphasis on biocontrol, genetics of disease resistance, microbial enzymes, advances in potential of microbes and their industrial as well as pharmaceutical applications. In addition, the use of botanicals, and the etiology and management of medicinal and aromatic plants in the post harvest management have been reviewed in greater depth for the benefit of teaching and research community. The biotechnological developments using microbe potential have enabled us combat the environment and human health problems worldwide in ecofriendly manner. We are sure that this volume will be highly useful to all those concerned with fungi, bacteria, viruses and their biology, including environmental and public health officers and professionals in the field of interest. The volume is an exhaustive coverage of almost all the aspects of microbial biology and biotechnology.