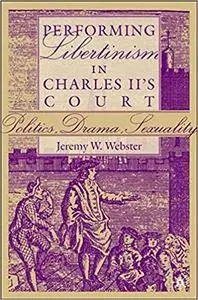 J. Webster, "Performing Libertinism in Charles II's Court: Politics, Drama, Sexuality"
2005 | pages: 257 | ISBN: 1349529931 | PDF | 1,4 mb
Performing Libertinism in Charles II's Court examines the performative nature of Restoration libertinism through reports of libertine activities and texts of libertine plays within the context of the fraternization between George Villiers, Duke of Buckingham, John Wilmot, Earl of Rochester, Sir Charles Sedley, Sir George Etherege, and William Wycherley. Webster argues that libertines, both real and imagined, performed traditionally secretive acts, including excessive drinking, sex, sedition, and sacrilege, in the public sphere. This eruption of the private into the public challenged a Stuart ideology that distinguished between the nation's public life and the king's and his subjects' private consciences.
My Link