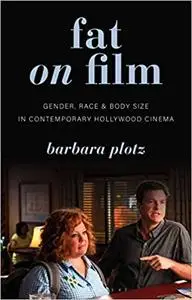 Barbara Plotz, "Fat on Film: Gender, Race and Body Size in Contemporary Hollywood Cinema "
English | ISBN: 1350114588 | 2020 | 296 pages | PDF | 2 MB
Over the last two decades, fatness has become the focus of ubiquitous negative rhetoric, in the USA and beyond, presented under the cover of the medicalized ''war against the obesity epidemic''. In Fat on Film, Barbara Plotz provides a critical analysis of the cinematic representation of fatness during this timeframe, specifically in contemporary Hollywood cinema, with an emphasis on the intersection of gender, race and fatness. The analysis is based on around 50 films released since 2000 and includes examples such as Transformers (2007), Precious (2009), Kung Fu Panda (2008), Paul Blart (2009) and Pitch Perfect (2012).Plotz maps the common cinematic tropes of fatness and also shows how commonplace notions of fatness that are part of the current ''obesity epidemic'' discourse are reflected in these tropes. In this original study, Plotz brings critical attention to the politics of fat representation, a topic that has so far received little attention within film and cinema studies.