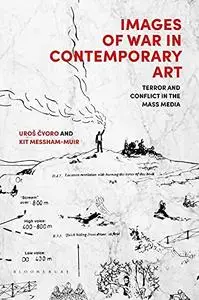 Images of War in Contemporary Art: Terror and Conflict in the Mass Media by Uroš Cvoro, Kit Messham-Muir
English | ISBN: 1350227331 | 296 pages | EPUB | September 9, 2021 | 7.49 Mb
In Images of War in Contemporary Art, Uroš Cvoro and Kit Messham-Muir mount a challenge to the dominance of theoretical tropes of trauma, affect, and emotion that have determined how we think of images of war and terror for the last 20 years. Through analyses of visual culture from contemporary "war art" to the meme wars, they argue that the art that most effectively challenges the ethics and aesthetics of war and terror today is that which disrupts this flow-art that makes alternative perceptions of wartime both visible and possible.
As a theoretical work, Images of War in Contemporary Art is richly supported by visual and textual evidence and firmly embedded in current artistic practice. Significantly, though, the book breaks with both traditional and current ways of thinking about war art-offering a radical rethinking of the politics and aesthetics of art today through analyses of a diverse scope of contemporary art that includes Ben Quilty, Abdul Abdullah (Australia), Mladen Miljanovic, Nebojša Šeric Šoba (Bosnia and Herzegovina), Hiwa K, Wafaa Bilal (Iraq), Teresa Margolles (Mexico), and Arthur Jafa (United States).