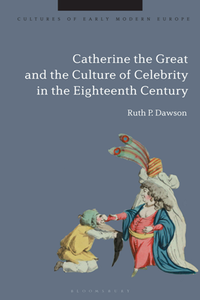 Catherine the Great and the Culture of Celebrity in the Eighteenth Century
by Ruth P. Dawson
English | 2022 | ISBN: 1350244627 | 321 Pages | True ePUB | 10.8 MB
This highly original study provides a detailed analysis of Catherine the Great's celebrity avant la lettre and how gender, power, and scandal made it commercially successful.
In 1762, when Catherine II overthrew her husband to seize the throne of the Russian Empire, her instant popular fame in regions of Europe far from her own domains fit the still new discourse of modern celebrity and soon helped shape it. Catherine the Great and Celebrity Culture in Eighteenth-Century Europe shows that over the next 35 years Catherine was part of a standard troika of celebrity-making agents-intriguing central figure, large-scale media, and an engaged public. Ruth P. Dawson reveals how writers, print makers, newspaper editors, playwrights, and more-the 18th-century's media workers-laboured to produce marketable representations of the empress, and audiences of non-elite readers, viewers, and listeners savoured the resulting commodities.
This book presents long neglected material evidence of the tsarina's fantasy-inducing fame, examines the 1762 coup as the indispensable story that first constructed her distant public image, and explains how the themes of enlightenment, luxury consumption, clashing gender roles, and exotic Russia continued to attract non-elite fans and anti-fans during the middle decades of her reign. For the later years, the book considers the scrutiny inspired by the French Revolution and Catherine's skewering in unsparing misogynist cartoons as they applied to visual representations, her achievements as ruler, the long-ago overthrow of her husband, and her gradually revealed list of lovers. Dawson reflects on Catherine II's demise in 1796 and how this instigated a final burst of adoration, loathing, and ambivalence as new accounts of her life, both real and fictional, claimed to unwrap the final secrets of the first modern international female celebrity – even now the only woman in history widely known as 'the Great'.