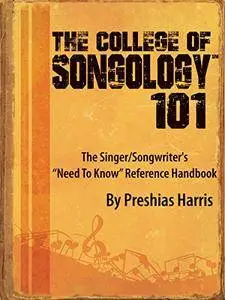 The College of Songology 101: The Singer/Songwriter's 'Need To Know' Reference Handbook by Preshias Harris
English | April 6, 2017 | ISBN: 1370062370, ASIN: B06Y4BCJF5 | EPUB | 144 pages | 0.3 MB
The College of Songology 101:The Singer/Songwriter's 'Need To Know' Reference Handbook should be in the backpack or guitar case of every singer or songwriter, if they're just starting out or already on the way to a career in music.
Unlike some books that claim to tell you 'everything you need to know,' Songology 101 focuses on the basic elements that are essential to take your music from a hobby to a career. The workings of the music industry can seem like a tangled mystery, but this book avoids the 'insider' jargon. It uses 'everyday' language to show you how to use these basic elements to protect the songs you create, make money from your music and move confidently through the music industry.
Author Preshias Harris is a music career development consultant and a music journalist with more than 25 years experience in Nashville. From her many years mentoring new and emerging singers and songwriters, she is able to communicate the 'need to know' information in a way that is easy to understand and put to use as your music career develops.
Among the topic covered and explained: Why Copyright is the essential tool to protect your creations; how to do it simply and cheaply; when to do it and when NOT to do it; how to use the different Copyright applications and where to find tutorials…
How to turn your 'rights' into income by Licensing; maximizing the different streams of income from Royalties; the difference between a 'First Use' mechanical license and a 'Compulsory' mechanical license; the increasing importance of digital royalties and 'sync' fees…
There's a section on Performing Rights Organizations (P.R.O.s); what they do for you; how a P.R.O. collects royalty money that is due to you when your songs are played in public; how a P.R.O. tracks radio airplay; how royalties are 'split' between songwriters; comparisons to help you decide which P.R.O. is right for you…
The curtain is pulled back on the world of song publishing; What a song publisher does for a songwriter; the benefits and drawbacks of self-publishing your songs or signing with a song publisher; using the services of a music publishing administrator; how to name and register your publishing company…
In the section on Demos, you'll explore the different types of song demos, acoustic demos and 'full band' demos; what you must do before you record a demo; why you might not be the best person to sing the demo; how to find a demo recording studio and what to ask before you cut the demo…
Because every creative person is unique, there are sections at the end of every chapter allowing the reader to personalize the information for his or her particular needs and level of experience. Each chapter includes clickable links to scores of helpful websites and essential information. There is also an entire section titled 'Music Industry Definitions from A to Z' that explains and clarifies literally hundreds of words and phrases that you need to understand as your musical journey progresses. (This section alone could be worth the purchase price because not knowing – or misunderstanding – certain music business terms and phrases could be disastrous to your career.)
The College of Songology 101:The Singer/Songwriter's 'Need To Know' Reference Handbook will demystify the most important aspects of the music business as they apply to you, the aspiring singer or songwriter, and to explain, in a way that is fairly easy to understand, the 'need to know' basics of how you make money from your music while protecting your interests.
Welcome to the crazy, exciting world of creating music!