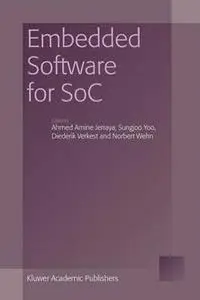 Embedded Software for SoC by Ahmed Amine Jerraya (Editor), Sungjoo Yoo (Editor), Norbert Wehn (Editor), Diederik Verkest (Editor) ;
Publisher: Springer; 1 edition (September 30, 2003) | ISBN-10: 1402075286 | PDF | 18,7 Mb | 585 pages
Embedded Software for SoC covers all software related aspects of SoC design: -Embedded and application-domain specific operating systems, interplay between application, operating system, and architecture. -System architecture for future SoC, application-specific architectures based on embedded processors and requiring sophisticated hardware/software interfaces. -Compilers and interplay between compilers and architectures. -Embedded software for applications in the domains of automotive, avionics, multimedia, telecom, networking. Embedded Software for SoC is a must-read for SoC designers that want to broaden their horizons to include the ever-growing embedded software content of their next SoC design. The book will provide embedded software designers invaluable insights into the constraints imposed by the use of embedded software in a SoC context.