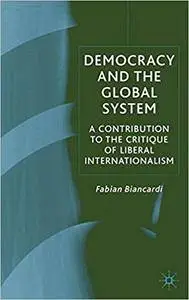 Fabian Biancardí, "Democracy and the Global System: A Contribution to the Critique of Liberal Internationalism"
2003 | pages: 276 | ISBN: 1403917779 | PDF | 0,8 mb
What are the prospects of the liberal democratic form of state spreading throughout the world? Democracy and the Global System analyzes the relationship between liberal democracy and the international system while developing a critique of liberal internationalism. Fabian Biancardí examines some of the key questions of modern politics and the major ideas of a number of significant authors and texts. While sympathetic to the aim of spreading liberal democracy, he demonstrates the many tensions and contradictions involved in achieving this outcome.
My Link