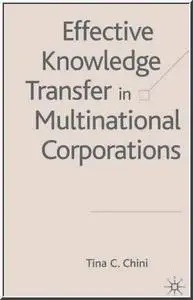 Effective Knowledge Transfer in Multinational Corporations by Tina C. Chini
Publisher: Palgrave Macmillan (February 10, 2005) | ISBN-10: 140394220X | PDF | 2,2 Mb | 200 pages
This book shifts the debate on knowledge transfers within multinational corporations (MNCs) back to its core: How can we increase the effectiveness of cross-border transfers of knowledge? Several perspectives on international knowledge flows, from control issues to cultural barriers, are integrated into a comprehensive framework. Based on a sample of leading MNCs, empirical results show which managerial mechanisms have to be implemented to increase the benefit from knowledge transfers in headquarters and subsidiaries.