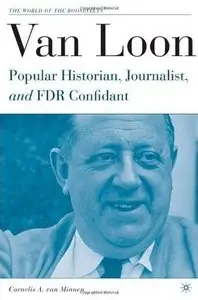 Cornelis van Minnen, "Van Loon: Popular Historian, Journalist, and FDR Confidant"
P/ve M….lan | ISBN: 1403970491 | 2005 | PDF | 369 pages | 1,9 mb
"Hendrik Willem van Loon, the Dutch-American writer and illustrator, was an extraordinary character. Larger-than-life, he overflowed with exuberance and gusto, and he devoted his talent to writing popular history in a delightful way. Cornelis van Minnen has written an arresting biography of van Loon and is to be congratulated in restoring the memory of this fascinating Dutch-American personality with his vast appetite for freedom, courage, friendship, and debate." –Arthur M. Schlesinger Jr., writer and historian, and author of the Pulitzer Prize-winning The Age of Jackson and A Thousand Days: John F. Kennedy in the White House.
"Cornelis van Minnen succeeds brilliantly in recreating the endlessly fascinating universe of Hendrik Willem van Loon. Readers will not want to put down his swiftly paced account of the literary and erotic adventures of this exuberant, larger-than-life man who was one of the most famous writers of the era between the two world wars." —William E. Leuchtenburg, William Rand Kennan Jr. Professor Emeritus of History at the University of North Carolina, Chapel Hill, author of Franklin D. Roosevelt and the New Deal, 1932-1940, winner of the Bancroft and the Francis Parkman Prizes
"This is a first-class telling and the exceptional story of Hendrik Willem van Loon: a noteworthy and memorable figure in American culture, yet hardly recalled today. In his meticulously researched and well-written biography, Cornelis van Minnen accurately captures the fascinating life and works of this influential historian, journalist and Roosevelt confidant that was a household name for the first part of the twentieth century. This is van Loon's definitive biography."–Douglas Brinkley, Distinguished Professor of American History, Tulane University, New Orleans and author of FDR and the Creation of the U.N. and The Unfinished Presidency: Jimmy Carter's Journey Beyond the White House.
"In his compelling biography of the larger-than-life Hendrik Willem van Loon, Cornelis van Minnen has provided a fascinating, meticulously researched account of the public life and chaotic private life of the too-easily forgotten 'prince of popularizers' who explained the Dutch to the Americans and America to the Dutch. Best-selling author and friend of FDR, van Loon deserves the attention that this wonderful biography pays him."–Tony Badger, Paul Mellon Professor of American History and Master of Clare CoIlege, Cambridge University, author of The New Deal: The Depression Years, 1933-1940
"In this gripping biography, Cornelis van Minnen rescues Hendrik Willem van Loon from archival obscurity and brings alive a fascinating, eccentric man of many talents. Van Minnen has combined factual observation with wit and humor and painted an engaging portrait of van Loon who was once a respected voice in the worlds of history and art and one of the era's more colorful observers and pundits."
–David B. Roosevelt, author of Grandmère, A Personal History of Eleanor Roosevelt
Note 1
: If you can not open the downloaded file, and your Adobe Reader reports on the damaged file, then
update
your Adobe Reader. Lastest version of Adobe Reader opens this book perfectly.
Note 2
: Links not work? Send me
PM
and I'll try to help you.