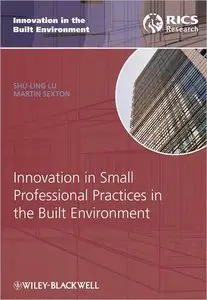 Shu-Ling Lu, Martin Sexton "Innovation in Small Professional Practices in the Built Environment (Innovation in the Built Environment)"
Wiley-Blackwell | English | 2009-06-22 | ISBN: 1405191406 | 240 pages | PDF | 1,6 MB
From the book's Foreword by Trevor Mole, Managing Director, Property Tectonics; President of the European Association of Building Surveyors and Construction Experts:
'Shu-Ling and Martin have built on their research work and that of others to produce an understandable and readable insight into innovation in small professional service firms. They have successfully unravelled the complex behavioural and organisational forces taking place and created a framework to help practitioners understand the issues and to fashion the right environment in which to foster innovation and deliver economic value.'
Small professional practices in the built environment are crucial to the success and long-term viability of the design, construction and property industries. This research-based book addresses the urgent need to better understand the nature and process of innovation in these important firms.
The authors offer an analysis of both why and how innovation is a key competitive factor for small professional practices in the built environment. As these practices are located in different business environments and behave in different ways to other types of industry firms, the context-specific methodology to design, implement and assess innovation in small professional practices presented in this book will appeal to researchers and practitioners in surveying and design.
Innovation in Small Professional Practices in the Built Environment makes a significant contribution to an underdeveloped area of innovation by offering new theoretical and practical insights and models grounded in results from a 22-month case study of a small professional practice.
To start download click HERE: